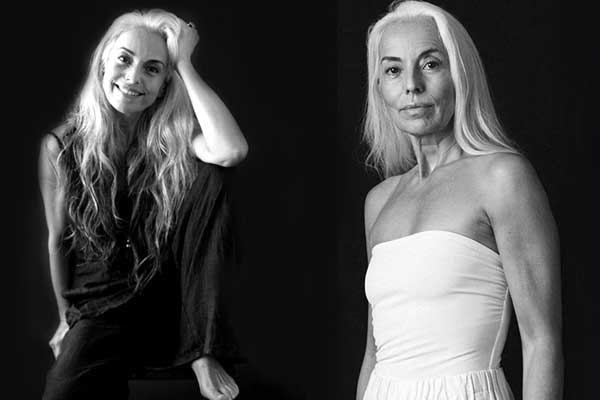 (Image source from: About Her)
"Age is something doesn't exist" for this 63-year-old model named Yazemeenah Rossi. This swimsuit model is a tangible example of healthy, wholesome living and one which you might find some value in.

Yazemeenah's stunning long silver hair is one thing you'll notice immediately. Her hair began to change color when she turned ten. In order to keep her natural hair color, Yazemeenah has had to fight agents which complements the very beauty that everyone finds so beautiful and inspiring. And anyway, she "always thought it was a gift…[She's] someone who likes to be simple."

Yazemeenah, who is originally from the eastern part of France but was born and grew up on the island of Corsica, became popular because of her radiant skin, characteristic silver hair and joie de vivre she emanated.

Yazemeenah, who is also a visual artist and self-portrait photographer, started modeling when she was 28, typically considered as an extremely late start in the industry. However, she got her big modeling break at the age of 45 and subsequently, she started taking the modeling world by storm and building career women half her age dream of.

The grandmother of two has done campaigns for designers like Ann Taylor, Bobbi Brown, Marks & Spencer, JD , and Eileen Fisher.

Beyond a doubt, Yazemeenah's gorgeous gray hair and wrinkle-free skin become a source of inspiration and hope for both young girls and older women alike.  

Yazemeenah's Advice for Living Healthy Life at Any Age

1. Enjoy Every Day

"I will model until the end of my life," Yazemeenah promises. "But it's not about modeling, it's about witnessing, witnessing the beauty, energy makes us alive."

In whatever you do, "it's [about] enjoying every day, more and more. It's like my heart is going to explode every morning."

2. Healthy Food
 

 

 

View this post on Instagram

One of the foods that Yazemeenah eats every day is avocado and she refrains from eating frustrating diets, processed, frozen, microwaved foods.

Almost daily, Yazemeenah will cook and eat fresh organic foods such as "vegetables, fruits, nuts, and some good quality fish and meats."

3. Skin Care

"The media makes us believe that we need this or that to have great skin so that products can be sold. They will never say, in fact, the skin has an ability to produce its own protection."

"There are no beauty products I couldn't live without as I can always find what I need anywhere."

One "product" that she grew up using on her hair and skin is olive and non-GMO rapeseed oil. Yazemeenah uses olive oil for her body and face, and the rapeseed oil through her hair. She uses Do It Yourself (DIY) body scrubs to naturally exfoliate her skin.  

"The best thing for the skin is to eat enough healthy fats on a daily basis and to oxygenate well while exercising," she says. "Walking and sweating are [also] great for your skin because it's our biggest breathing organ."

The twice-divorced eternal beauty believes her happy, carefree and relaxed childhood and lifestyle have enabled her to preserve her youth.
By Sowmya Sangam