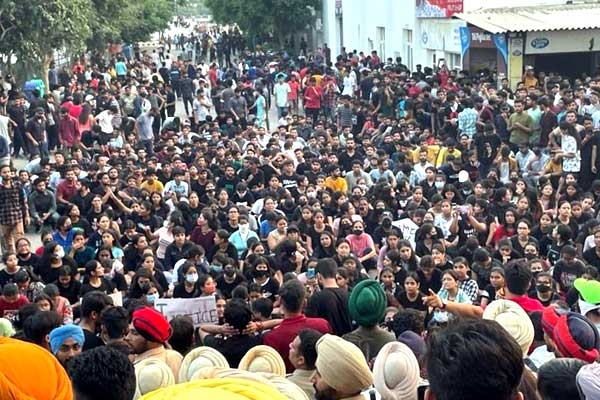 (Image source from: Newsx.com)
An objectionable video has been leaked on Saturday from Chandigarh University and this created a sensation across the nation. The video has been leaked from a girl's hostel in Mohali. The Chandigarh University is now shut till Saturday to prevent any unexpected incident. The University issued a statement about the same. Massive protests are staged by the students who demanded an action against the allegations of the objectionable videos of girls were recorded by a hosteller. The video of 50 girls taking a shower was shared on social media and it went viral in no time. Two accused in this leak have been arrested and detained in relation with the incident. Several students vacated the premises with their luggage after the protests and the incident.
Punjab | Chandigarh University closed till 24th Sept; a few students seen leaving for their homes.

Students' protest erupted in the campus yesterday over the University's alleged 'leaked objectional videos' row. Two accused arrested & one detained in connection with the matter. pic.twitter.com/BJraCQUr5J

— ANI (@ANI) September 19, 2022
The protests started on Saturday night and they continued till Sunday. Some of the girl students attempted suicide after the video went viral. The cops refuted these rumors saying that no such incidents took place. Deputy Inspector General of Police (DIG) GS Bhullar spoke about the incident after he interacted with the students. Police protection was arranged. The Mohali Deputy Commissioner (DC) Amit Talwar also dismissed the rumors about the suicide of the girls. Sunny Mehta was the accused and he belonged to a village uner Rohru sub-division of Shimla which is 130 km away from Mohali. The other detained was identified as Rankaj Verma. Both the accused have been handed over to the Punjab cops in Rohur and Dhalli. The girl student who shot the video too has been arrested and she was handed over to the cops.