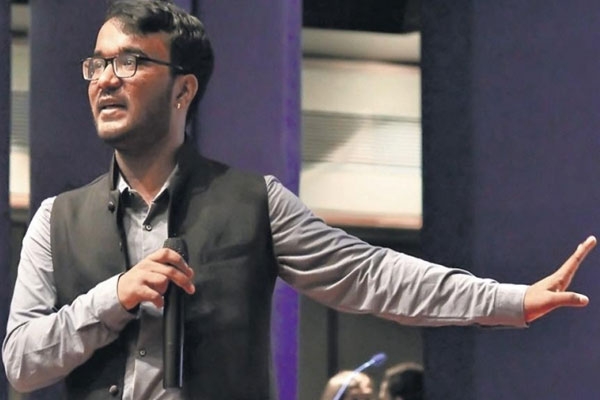 (Image source from: newindianexpress.com)
Neelakanta Bhanu Prakash won gold in the World Championship at Mind Sports Olympiad (MSO) in the category of mental calculation.
A 20-year-old Hyderabad boy becomes the fastest human calculator in the world by breaking the record of Shakuntala Devi.
Neelakanta Bhanu Prakash is a 20-year-old boy who hails from the Telangana state of India. He studied Mathematics Honors and is currently studying at Delhi University's St. Stephen college.
He currently holds 50 Limca Book of Records for his fastest ever mathematical calculations. Recently, he created a record in the world by securing a gold medal in the mental calculation category at the World Championship for Mind Sports. Neelakanta is now the fastest human calculator who will be remembered after Shakuntala Devi.
A report from ANI states that Bhanu Prakash can make the calculations faster than a calculator. His record was earlier broken by Scott Flansburg and Shakuntala Devi.
Neelakanta Bhanu Prakash believes that he has done his bit to take India to the global level in mathematical abilities.
The MSO championship which was held recently at London on August 15 has first time witnessed India taking home a gold medal on its name.
MSO is considered one of the most prestigious championships globally which is designed for checking the mental skills and mind sports in London. The event will be held once annually.
MSO this year has held the championship virtually owing to the pandemic situation where 30 participants up to the age of 57 have taken part in the competition and each of them hails from 13 different countries including the UK, UAE, Germany, Greece, France, and Lebanon.
Bhanu Prakash, as per the report from ANI was 65 points ahead of the two other candidates who secured second and third positions in the championship respectively.
Neelakanta Bhanu Prakash revealed that he was required to perform some more calculations in order for the judges to confirm his accuracy in mental calculations.
The 20-year old prodigy from Telangana hopes to create vision math labs that will be created to ensure that millions of children and enthusiasts develop these mental skills, particularly in mathematics.
Bhanu Prakash further quoted that it is important to have the numerical ability along with other skills as it is important to improve the literacy count of any country. He further said that people who want to eradicate their math phobia must focus on honing their calculation skills.
In future, the fastest human calculator wants to increase the popularity of brain training in India mainly among children and adolescents. He hopes that his teachings would inspire children to learn math and also pursue it as a mental sport.
By Gayatri Yellayi