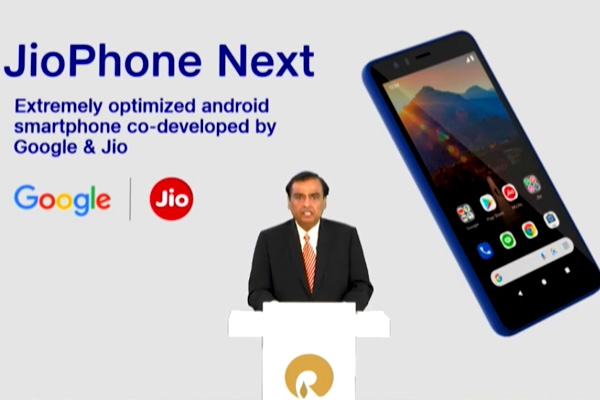 The 44th Annual General Meeting of the Reliance Industries took place on Thursday and the company's Chairman Mukesh Ambani announced JioPhone Next that will be available in the market later this year. JioPhone Next is an Android based phone that is partnered by Reliance Jio and Google. Mukesh Ambani and Sundar Pichai released the pictures during the meeting. JioPhone Next offers Google Play store access and features like language translation, voice assistance, read-aloud of screen text. Mukesh Ambani said that there are still 300 million mobile subscribers who cannot afford a smartphone. He said that he discussed the same with Sundar Pichai and they decided to join hands for JioPhone Next.
Mukesh D. Ambani announces the launch of JioPhone Next, which is developed jointly by Google and Jio teams.@GoogleIndia#RILAGM #RILAGM2021 #MadeForIndiaMadeInIndia #Jio #Reliance #Business #JioDigitalLife pic.twitter.com/g3E2eT1iAs

— Reliance Jio (@reliancejio) June 24, 2021
JioPhone Next will be launched on September 10th on the occasion of Ganesh Chaturthi and the price will be announced soon. JioPhone Next is expected to give a tough competition for all the budgeted smartphones. JioPhone Next comes with the most optimized version of Android. Mukesh Ambani spoke about this at the virtual AGM that took place yesterday. "Excited to announce the next steps in our partnership with @RelianceJio to accelerate India's digitization, starting with a new affordable Jio smartphone with an optimized @Android experience, and a 5G collaboration between Jio & @GoogleCloud" posted Sundar Pichai on his official page.
Excited to announce the next steps in our partnership with @RelianceJio to accelerate India's digitization, starting with a new affordable Jio smartphone with an optimized @Android experience, and a 5G collaboration between Jio & @GoogleCloud.https://t.co/Wi9DExPU6b

— Sundar Pichai (@sundarpichai) June 24, 2021