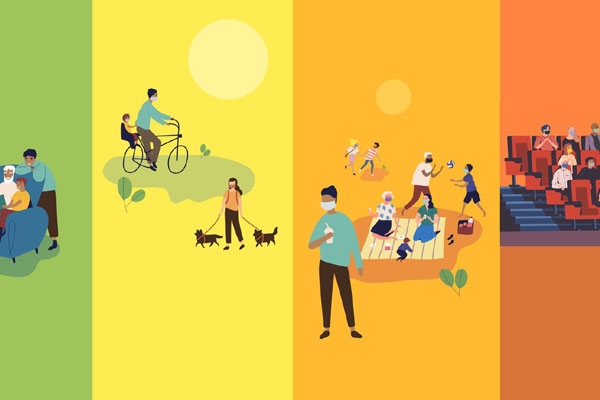 (Image source from: cdn.vox-cdn.com)
The WHO has ranked the activities into low, moderate and high risk in the times of COVID-19. Take a look and be clear on activities you can do.
At a time when Unlock 3.0 has embarked in the country from August 1, India is still seeing the biggest spikes in daily number of coronavirus cases.
However, people are moving out be it for grocery shopping or to visit friends or family. It is important to note that Ministry of Health and Family Welfare has recommended people to not step out of their houses except if there's an emergency.
Now that it has become mandatory to step out for one or the other thing, the WHO has segregated the list of activities normally done by everyone outside into categories of risk factors- low, moderate and high.
Low risk activities
Picking up food delivery at the restaurant's take-away counter.
Opening a parcel or mail.
Moderately-Low risk activities
Shopping for groceries at a supermarket.
Going for walking, biking or running.
Visiting a park.
Moderate Risk activities
Working from Office.
Visiting elderly relatives.
Moderately High Risk
Going to a salon.
Dining at a restaurant.
Playing contact sports.
Traveling by airplane.
Shopping at a mall or a market.
Hugging and shaking hands.
High Risk activities
Working out at a gym.
Visiting religious places and gatherings.
Attending a wedding or a funeral with many guests.
Precautions to take while doing low risk activities:
Always wear a face mask once you step out of your home.
Remove mask while jogging or running as it can cause breathing problems.
Maintaining social distancing while walking at parks and also while shopping for groceries.
Throw away the packaging of your food takeaway immediately after you bring home.
Wash your hands at least for 20 seconds after returning to home.
Precautions for moderate risk activities:
Avoid entering shops during the peak of the day.
Maintain 6 feet distance between each other in offices.
Avoid shaking hands and hugging your colleagues.
Avoid large physical congregations.
Wash your hands for 20 seconds at least 3 times while at office.
Ask the employers to ensure staggered lunch breaks.
Do not visit any relative's house in large number and neither should you allow a large number of people into your house at a time.
Remember to carry a sanitizer if you are using public transport.
Try to meet the person outdoors instead of indoors.
Precautions for moderately high risk activities:
Passengers who are about to have a flight journey must wear a face mask right from the moment they leave the house.
If you want to take a cab, choose an authorized one to reach the airport.
Let the officials at the airport record your body temperature first before entering.
Ensure to collect your safety kit with masks and sanitizers before boarding.
You cannot take any precautions if you are performing high risk activities like attending a wedding or funeral. Simply avoid going doing these activities till the pandemic subsides.
By Gayatri Yellayi