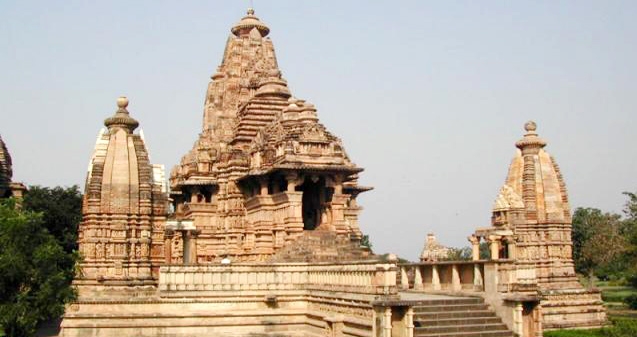 (Image source from: The Temples of Khajuraho)
The central provinces of India is equally interesting. Places like Gwalior, Khajuraho will take you to the land of temples and forts. The temples of Khajuraho, specially, are loved by tourists and make for a must visit. The erotic sculptures here have impressed visitors since a long time now.
During the Chandela rule, many towns in Bundelkhand including Khajuraho were home to large and flourishing Jain communities. At Khajuraho the Jains apparently lived on the east side of town. A number of Jain temples from that period have survived in this part of Khajuraho in various states of preservation. Many Jain inscriptions from the Chandela period can be seen at Khajuraho. All the Jain temples are now enclosed within a compound wall constructed in early 20th century, with the exception of the Ghantai temple.
Parshvanath Temple
This temple contains an inscription of 954 AD of builder Pahil, mentioning donation of gardens and requesting future generations to safeguard the temple. It mentions Chandella Dhanga as the reigning king. A well known early magic square is found in this temple.
Adinath Temple
The Adinath Temple contains an idol with an inscription dated Sam 1215 during the rule of Chandella king Madanavarman.
Shantinath Temple
The Shantinath Temple is a modern composite structure that incorporates sections of several temples and has several shrines. The main section has a 12-foot-tall (3.7 m) idol of Lord Shantinath with an inscription of Sam. 1085.